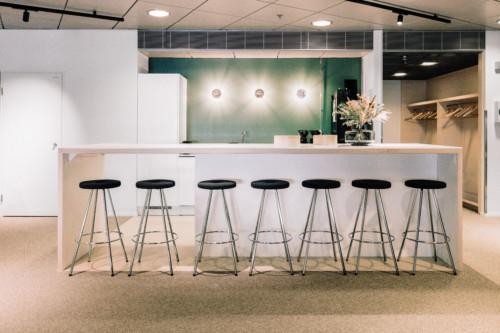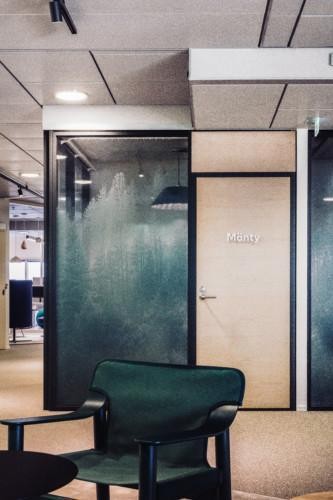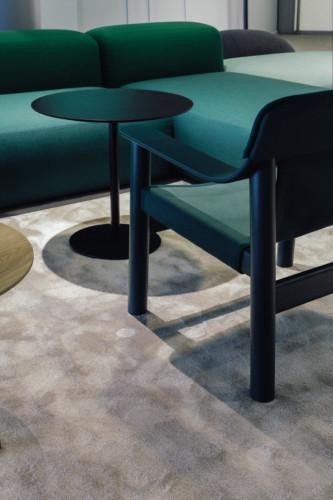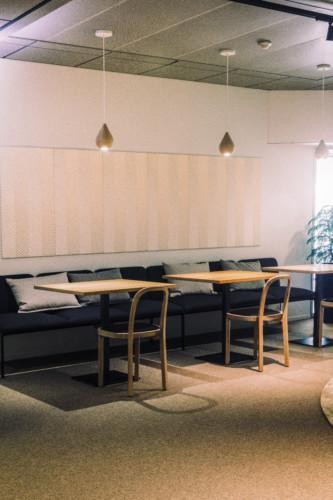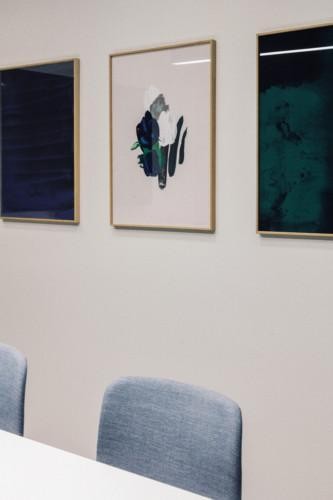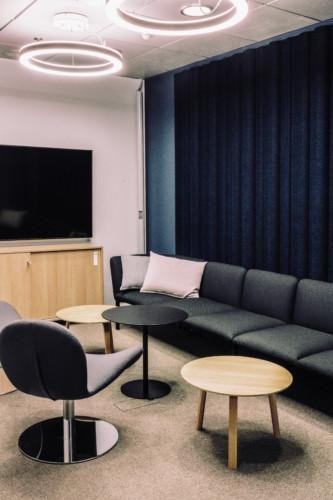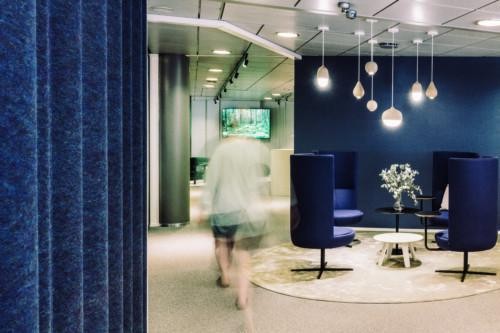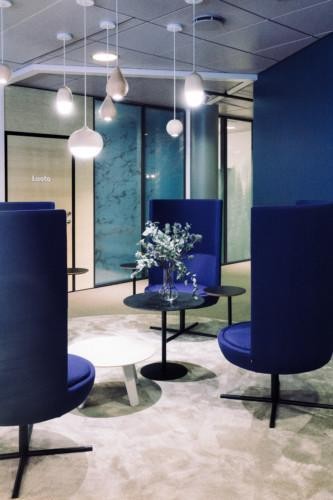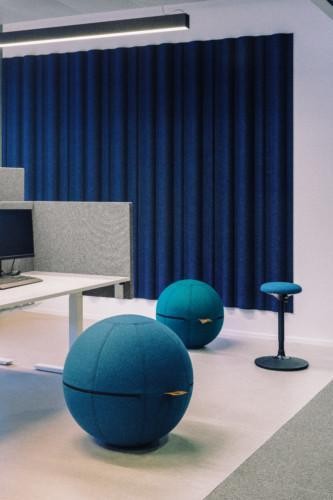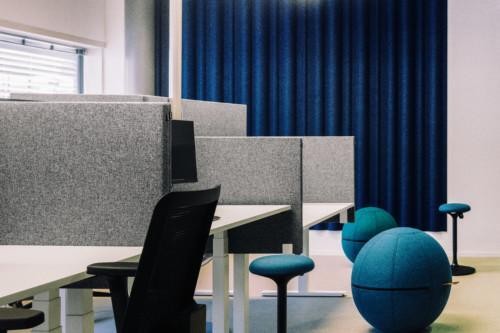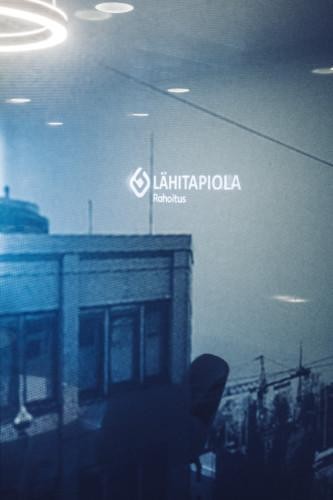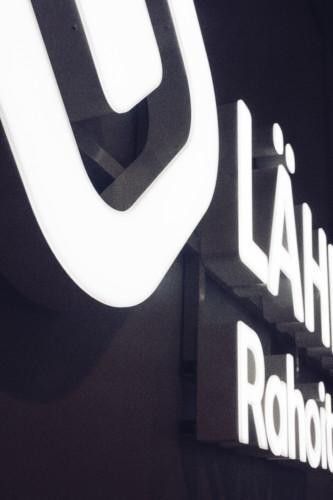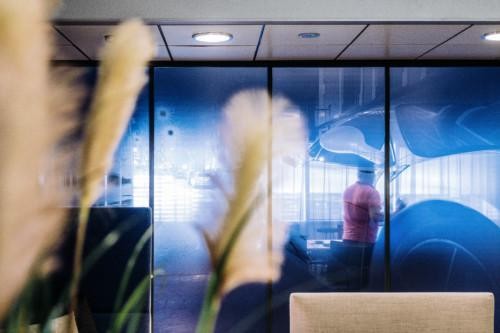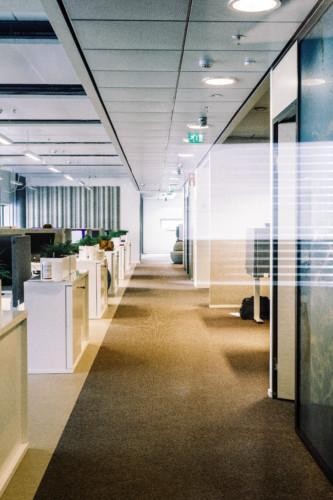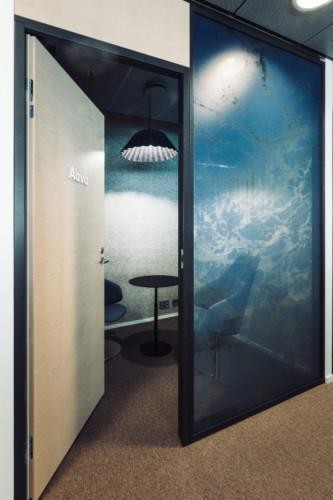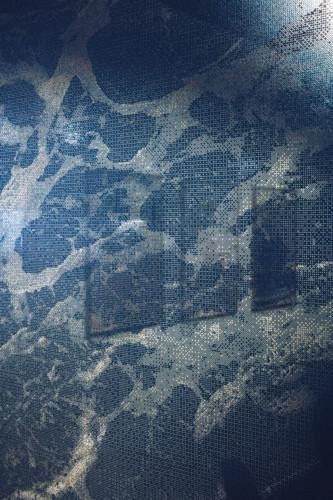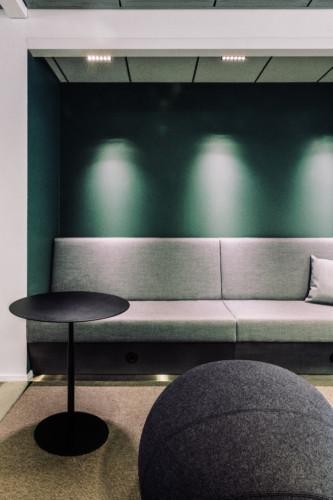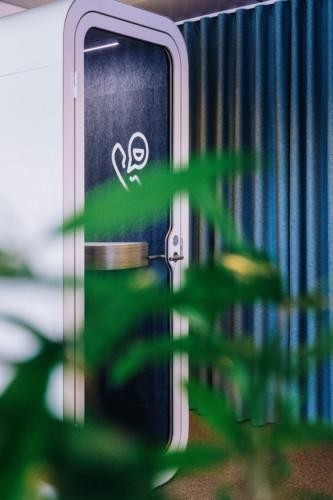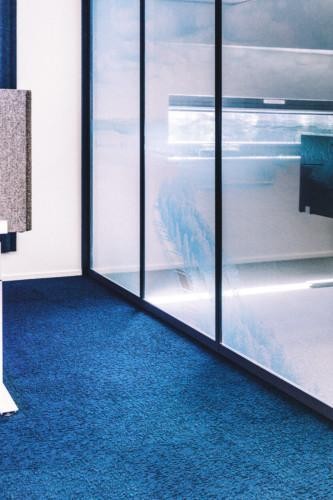 Spatial concept communicates Finnish nature and environmental values
LähiTapiola's office space expansion was an excellent opportunity to renew the old side simultaneously with the new one. We kicked off the project with online surveys for the management and the entire personnel, surveying their working habits and different teams' needs. The surveys were conducted amid the pandemic and the results were very insightful in the new situation. We started to prepare the office space for the new ways of working: part remotely, part at the location. Key factors in the design were acoustic solutions, providing spaces for phone calls and remote meetings, as well as creating an appealing office where the employees would want to come and meet each other.
We were inspired by the Finnish heritage and environmental values of the company. The space is themed around different landscapes of Finland. Staff entrance opens to a lounge where forest green tones and comfortable furniture invite for a relaxing cup of coffee. In the workspaces, the view changes from green fields to blue shades of lakeside and seashore, ending with views from central Helsinki in the client reception area.
Our shared green values are also present in the material and furniture choices. We favored Finnish designers and suppliers and studied how the materials were manufactured and how they could be recycled. For example, the window decals were made using PVC-free film. We used partly existing materials and furniture, and partly new ones.
This extensive project was carried out in good spirit all the way through, and the result is a one-of-a-kind office space both the client and designers can be proud of!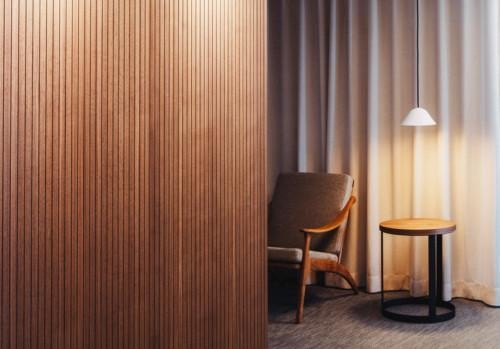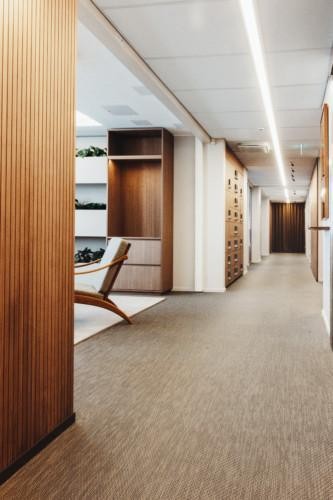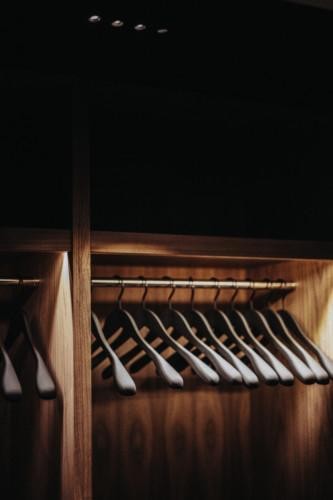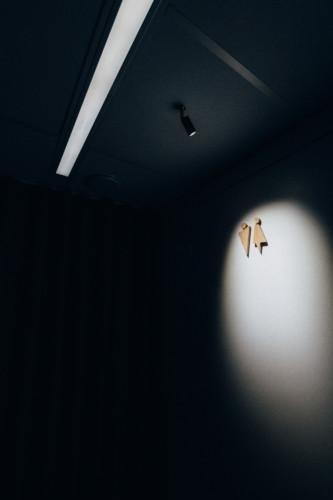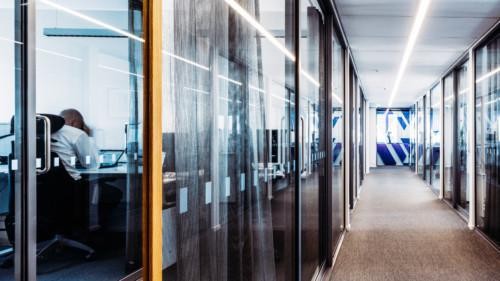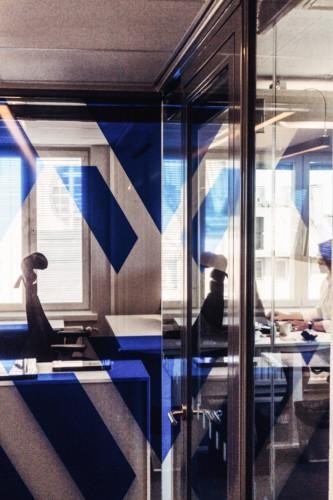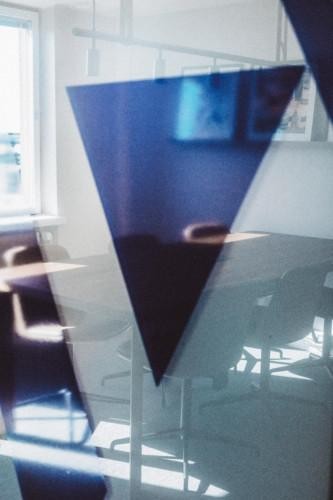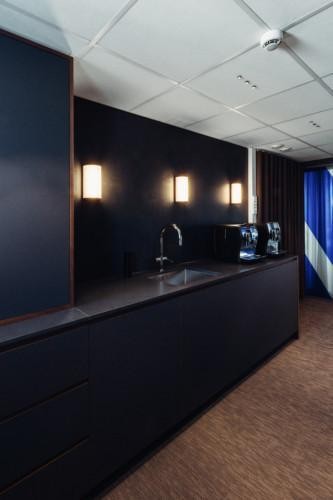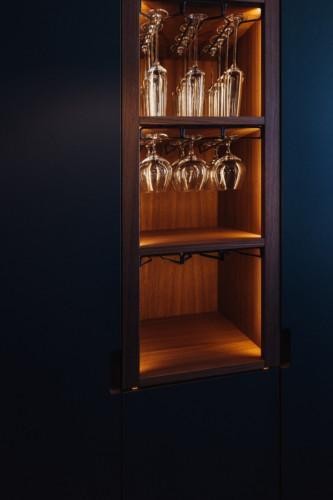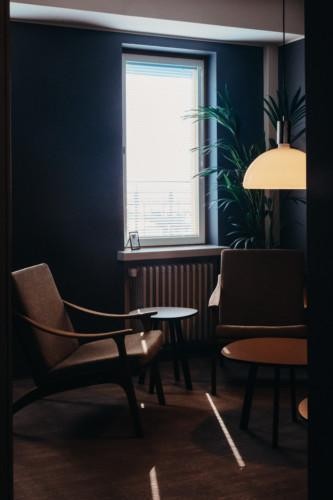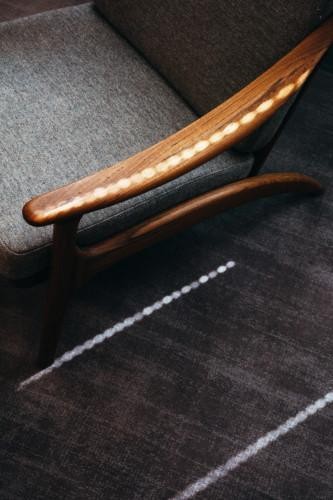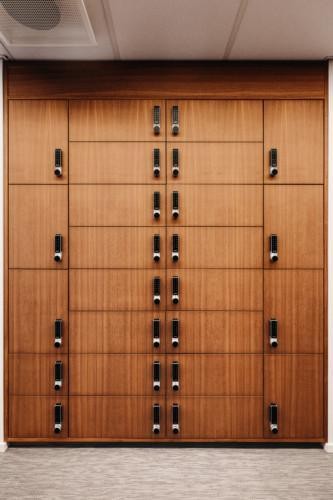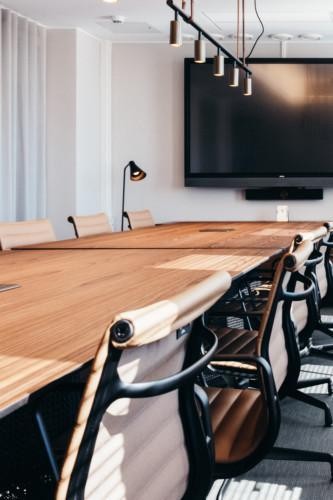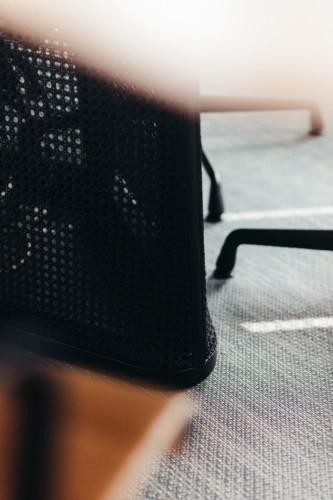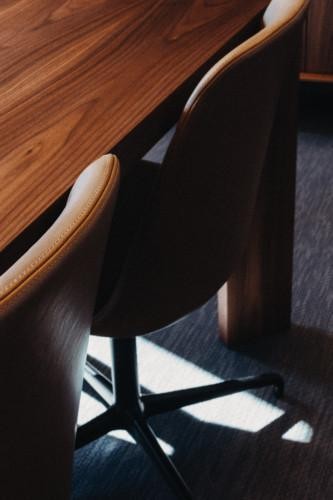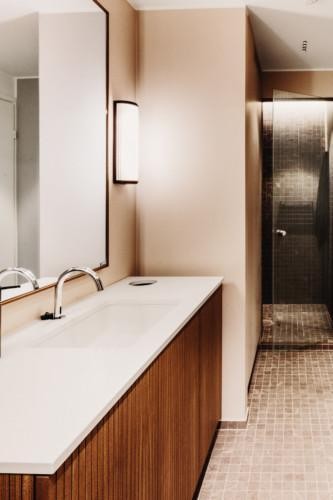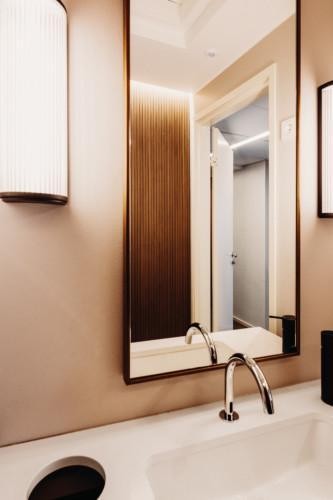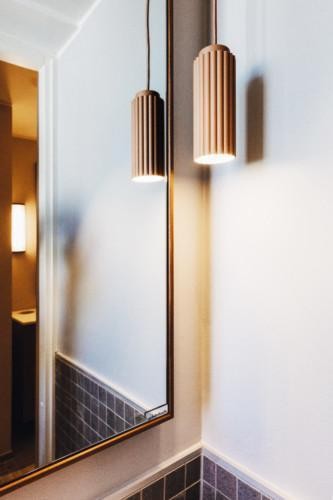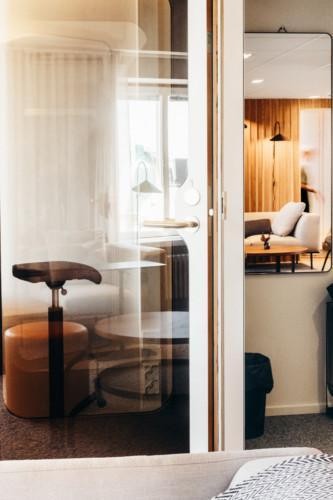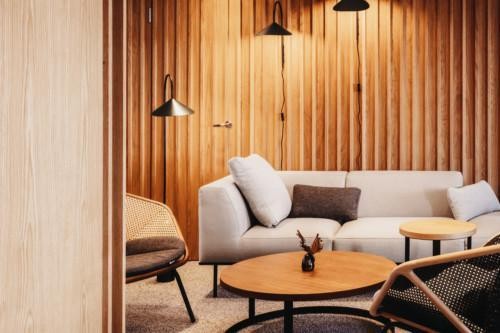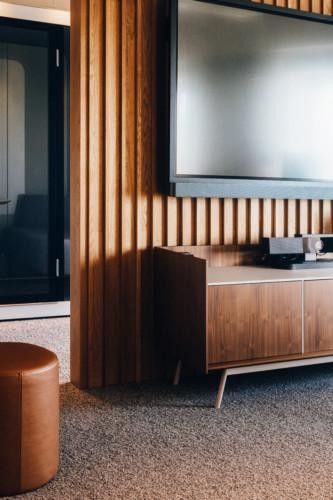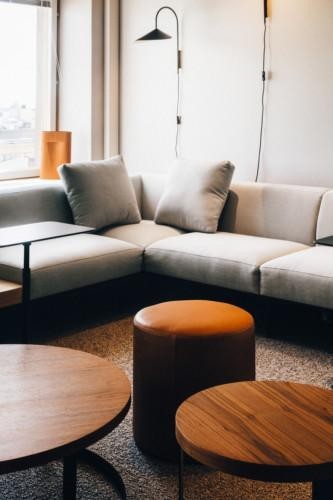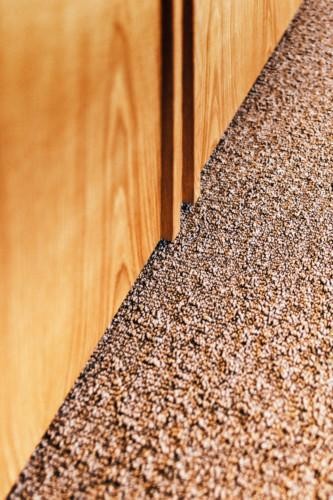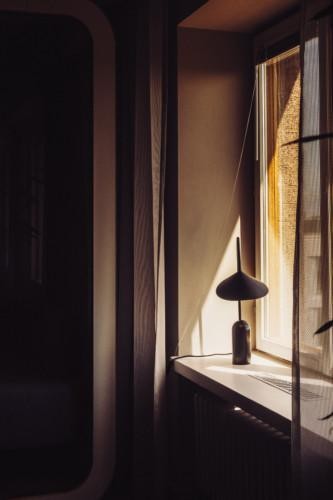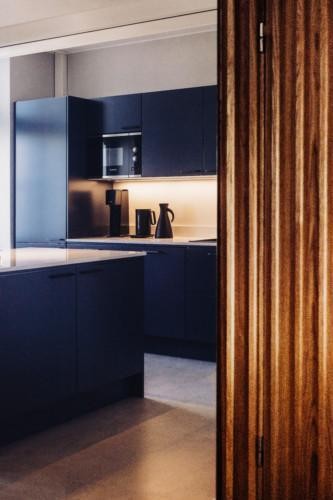 Sustainably designed facilities to meet the users' needs.
Vaaka Partners, a Finnish private equity firm, had their premises fully renovated. The work environment has a distinguished atmosphere, consistent with the company's brand. Participatory workshops and online surveys clarified the personnel's spatial needs: functionality and privacy to support work and cosiness to reinforce togetherness at the office.
We selected dusky tones and natural materials to bring warmth into the spaces. Adjustable lighting is a practical feature in the variable lighting conditions of our northern location. Comfortable lounge furnishing invites to sit down for a chat with coworkers. Acoustic materials such as sound damping carpet keep the soundscape calm.
Peace and quiet is a common requirement for today's workspace, as many tasks require focusing and remote meetings are here to stay. Different spaces have their designated functions and all items have their place in the office to keep it tidy.
Old office desks, chairs and cabinets were in good shape and thereby kept in use. Disposable items and carpets were recycled. When selecting new furniture and materials we focused on high quality and long-lasting products from manufacturers who have sustainable principles.
The pandemic also brought new solutions into Vaaka Partners office space. Handwash and disinfectant were made easily available for employees and visitors, and air conditioning was automated to increase airflow in the spaces with most people at any time.
The project was completed on schedule due to effective cooperation between designers, planners and contractors.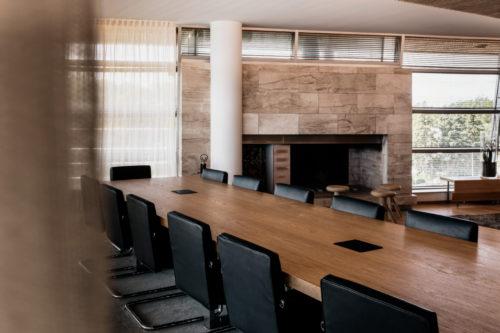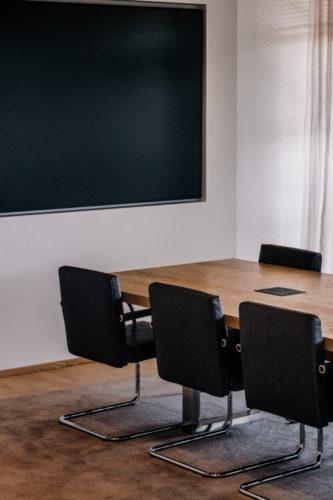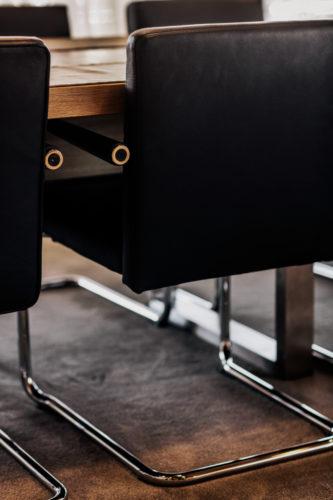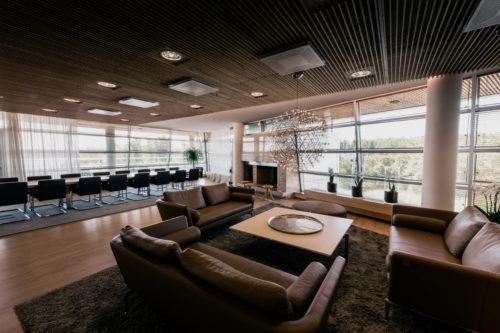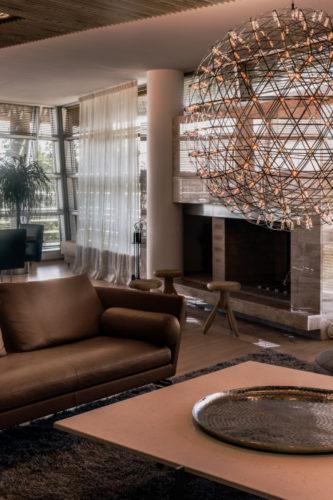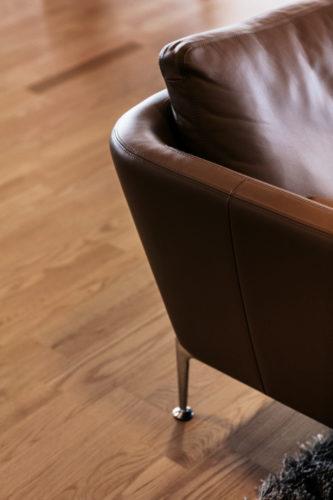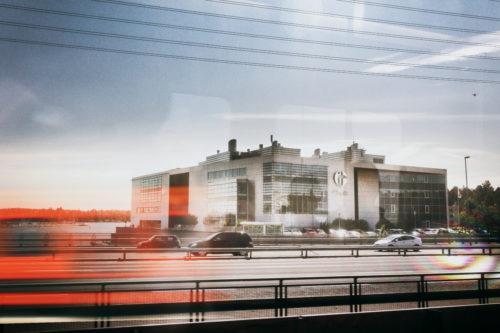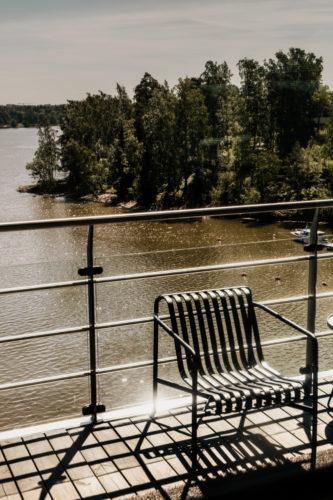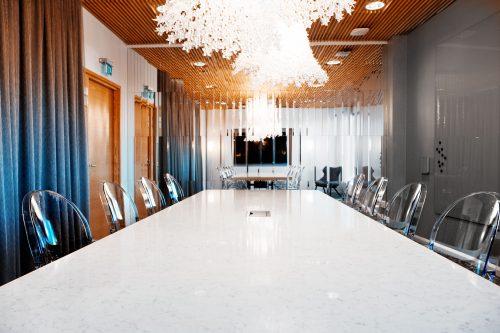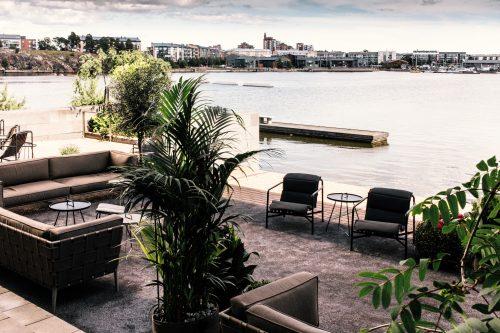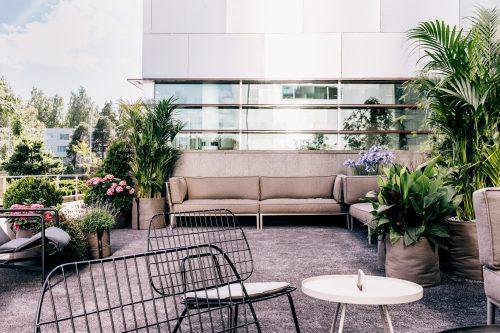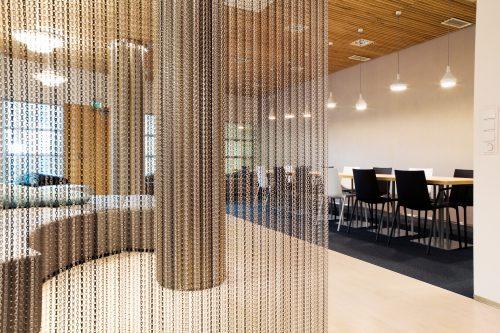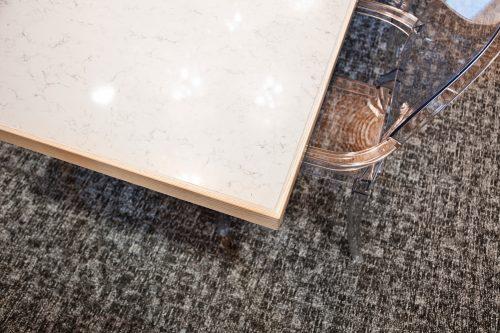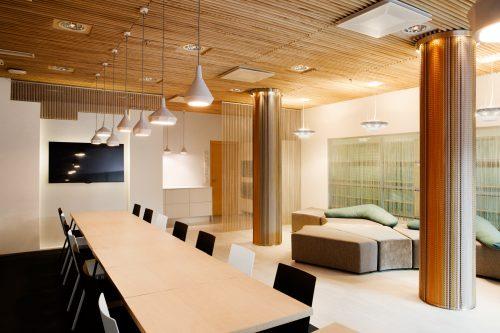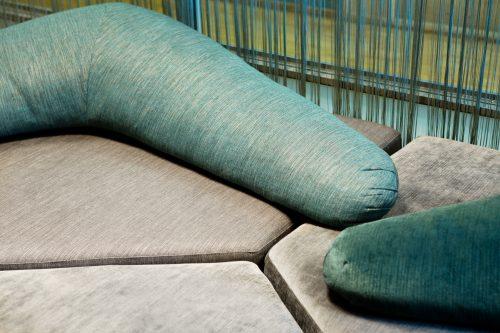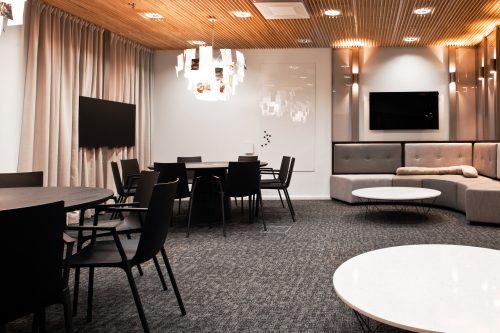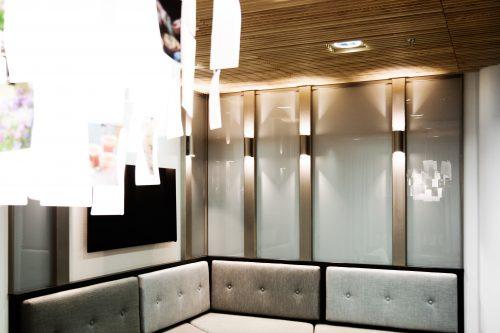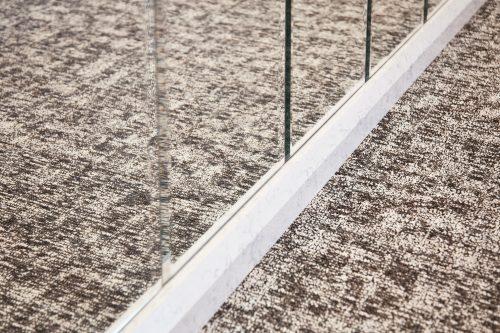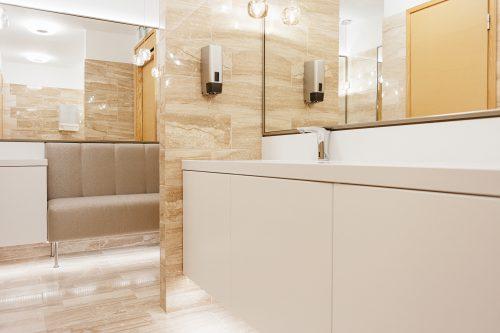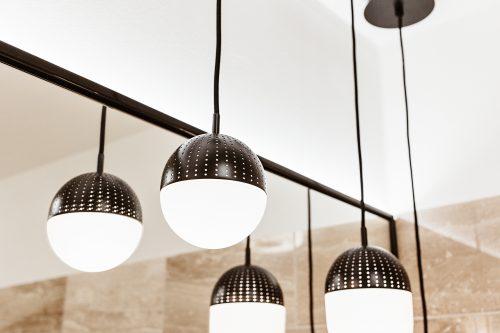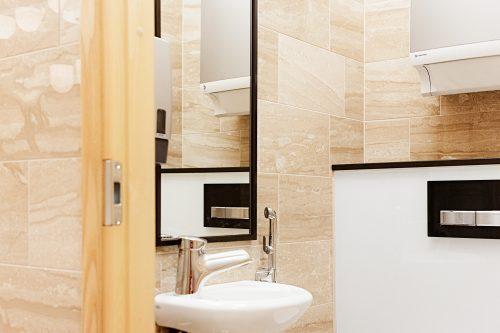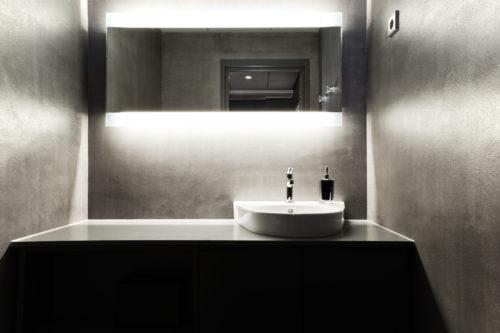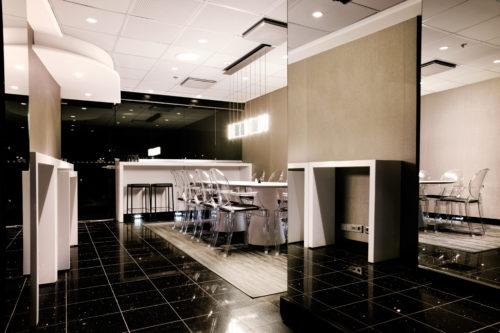 Contemporary chic
Kakadu has been in charge of interior design and spatial development at A-lehdet media house headquarters since 2014. The design work is comprised of workspaces, common spaces, private lounges and a restaurant.
A-lehdet headquarters is an architecturally unique building, and its uniqueness defines the interior design as well. The basis for the design has been to create a timeless, functional and aesthetic office environment for the needs of a media house and the financing bank Santander, which is located in the same building and shares common spaces with A-lehdet. The workspace design was based on the insights gathered in inclusive workshops.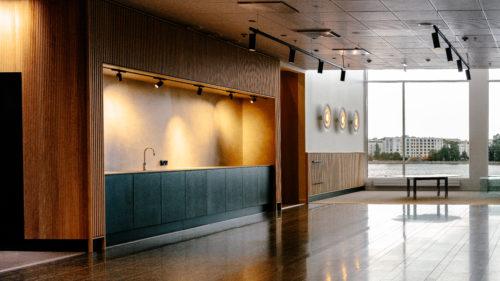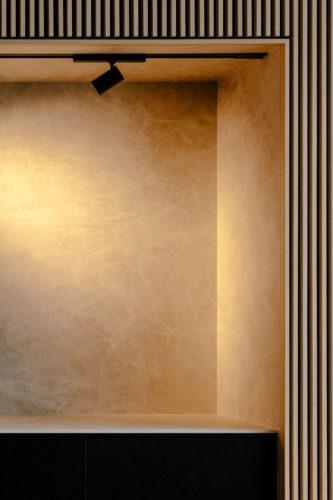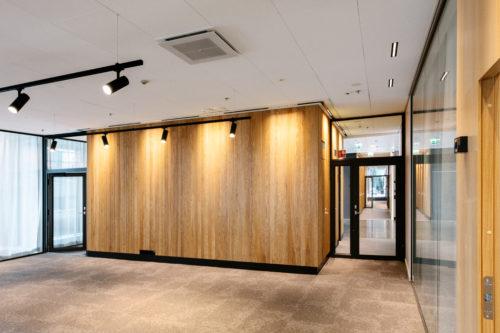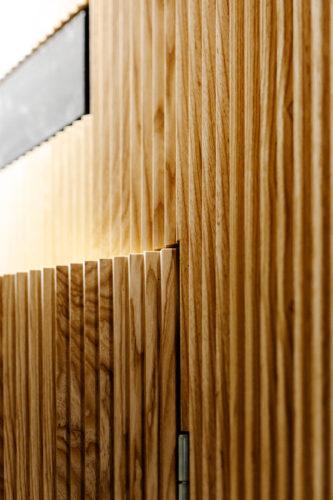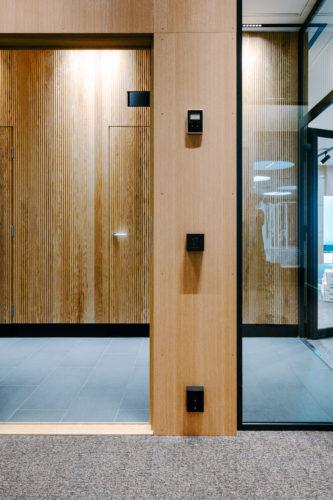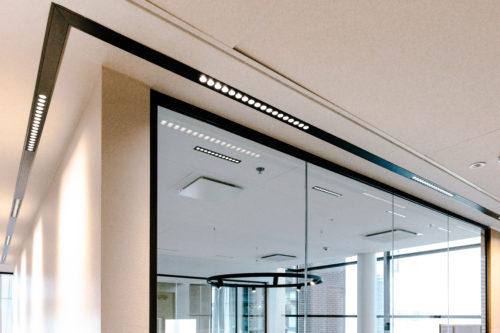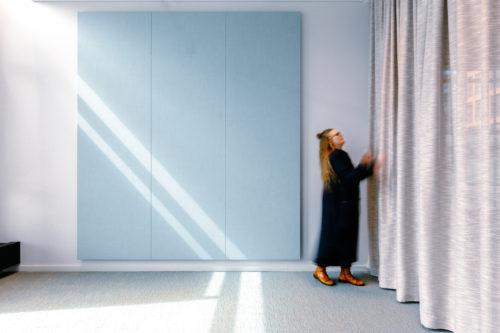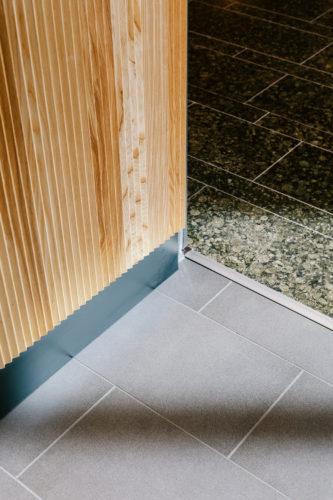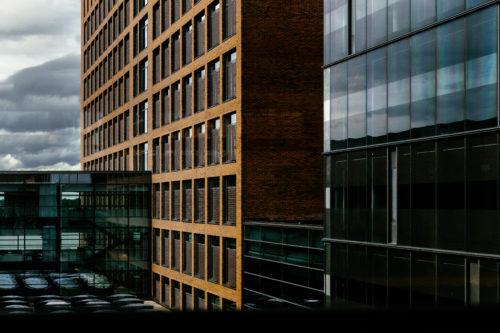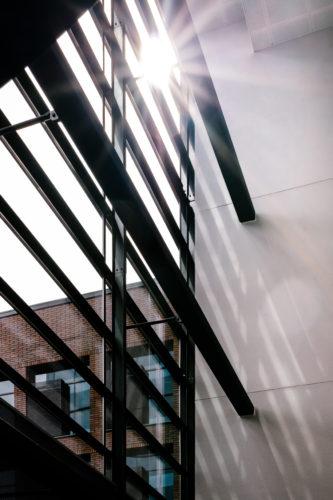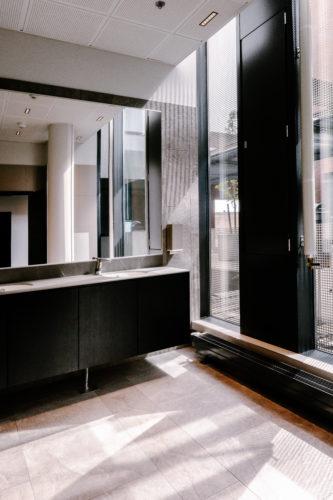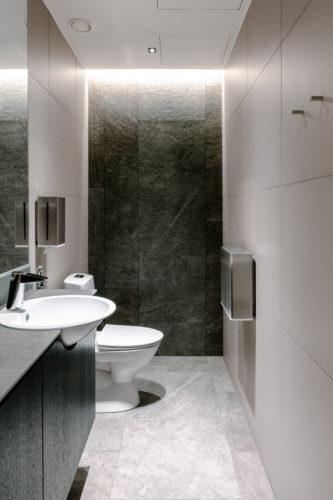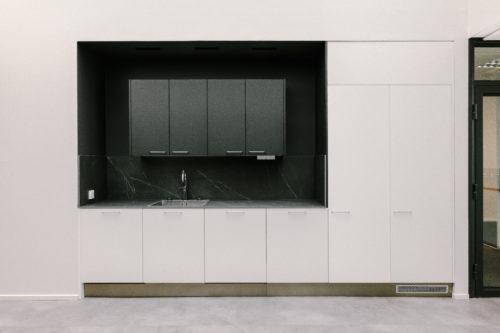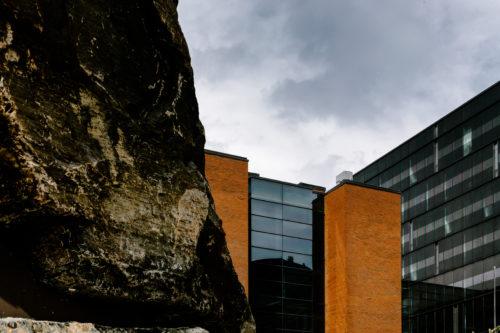 Timeless style in a prestigious setting
Pension insurance company Varma had leftover space after a long-time tenant had moved out. Repurposing and renovation merged the space with the already renewed areas of the building.
Area of about 1500 m2 was almost fully dismantled and rebuilt. New partition walls and ceilings transformed the former occupational health clinic into 18 meeting and training rooms. The rooms names were inspired by the surrounding seaside.
The elegant meeting rooms add to the usability of the entire building, and they serve the new tenant with state-of-the-art technical installations. Selected materials are natural, high quality and long lasting, blending into the unique setting and location.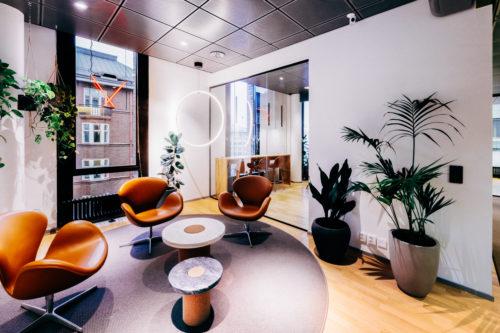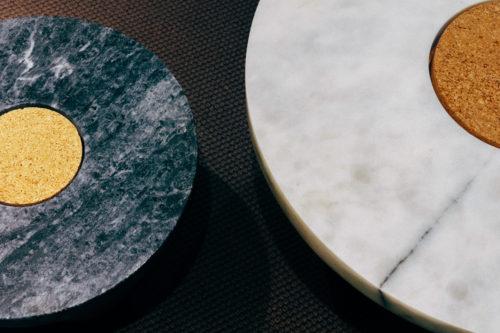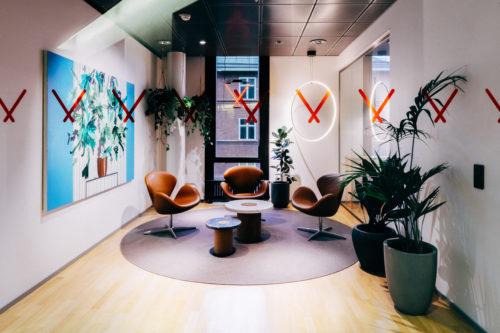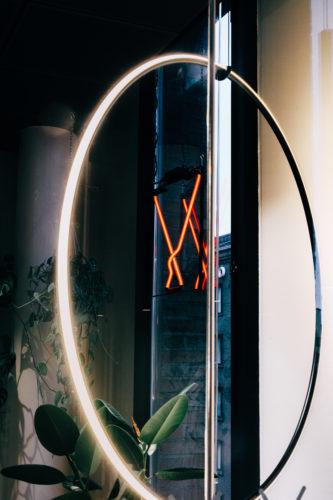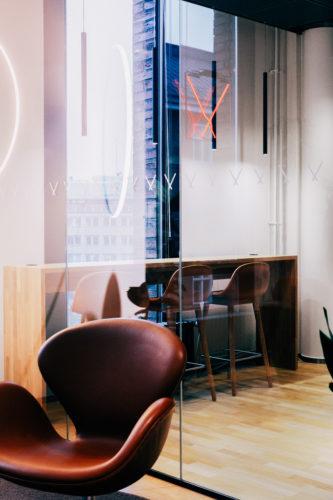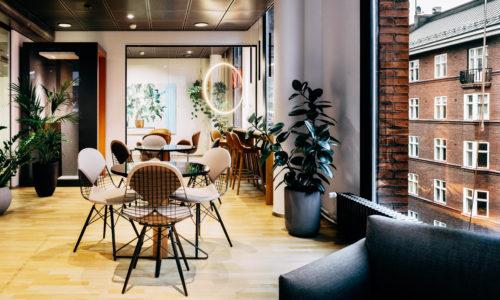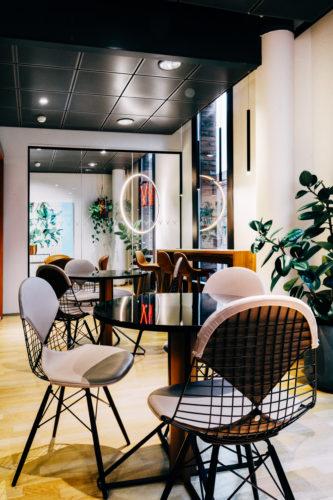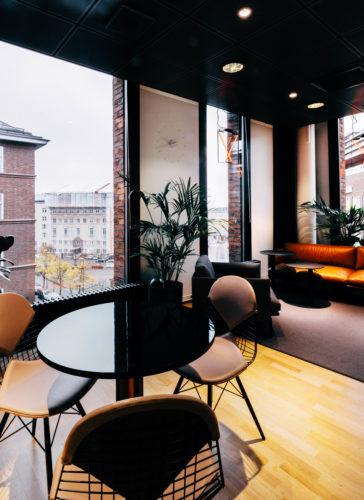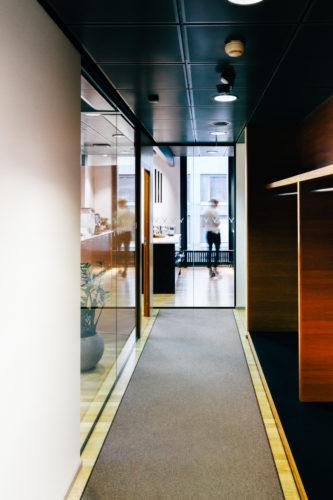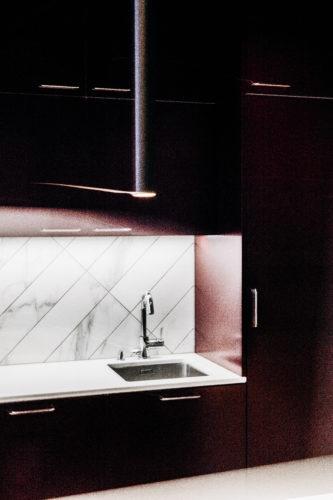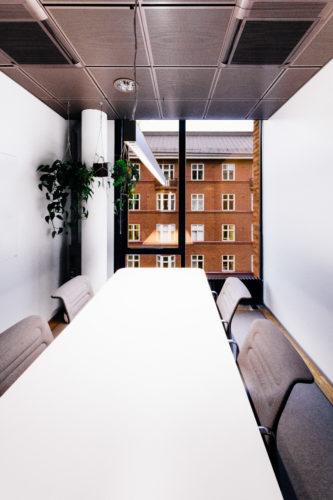 Functional activity based office in Kamppi
In 2018 we created layouts for two office spaces and compared their feasibility for Vauraus Suomi Oyj, a Finnish finance and investment company. A suitable option for their new premises was found in Kamppi in central Helsinki.
The activity based office is compact, and each function has a designated area. Spaces for employees and clients are separate, where as lobby, work café and break room are shared, bringing openness and relaxed atmosphere to the space. The private, sound proof meeting rooms and the presence of art create a milieu that is both classy and credible.
"The premises have been excellent and they have received a lot of praise. The project went well and it was a pleasure to work with you!"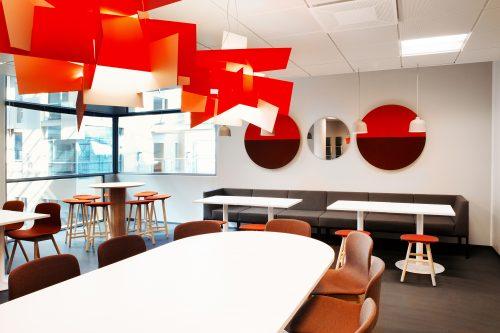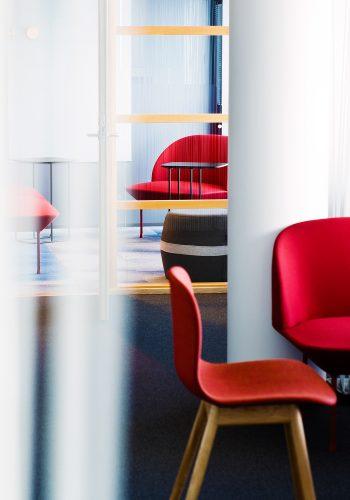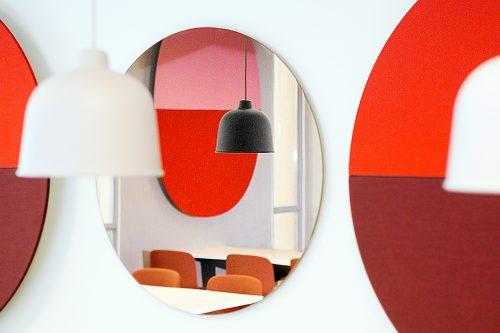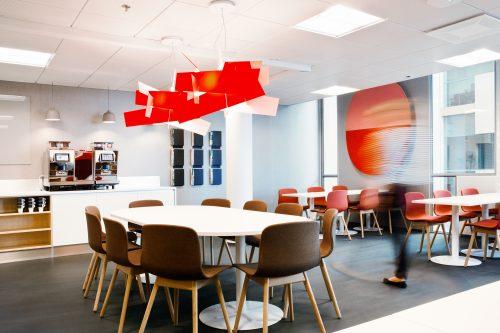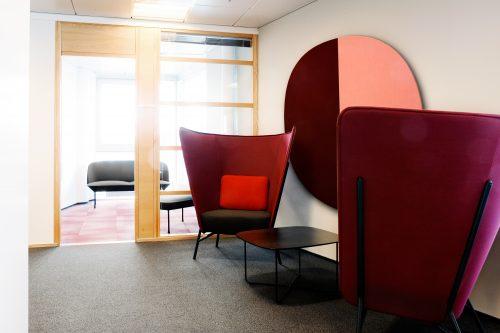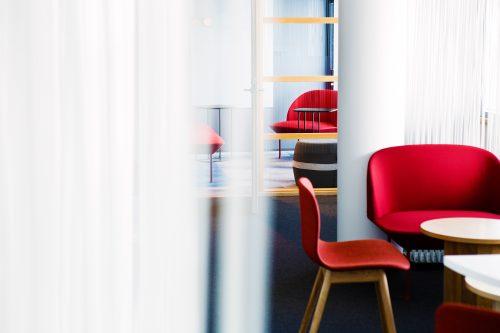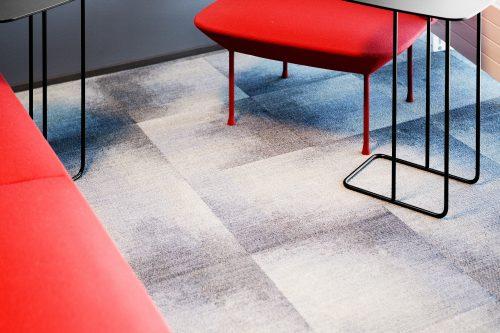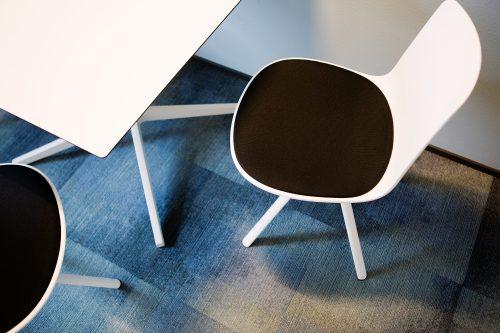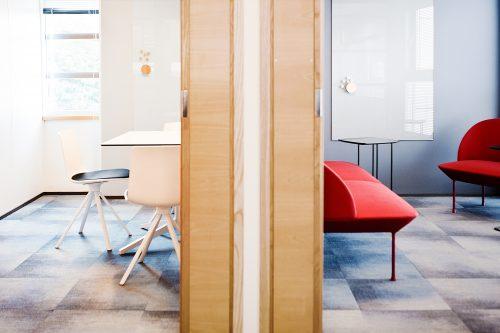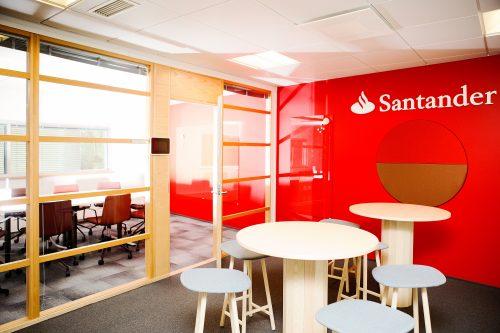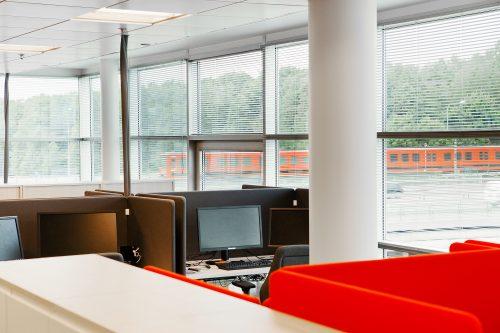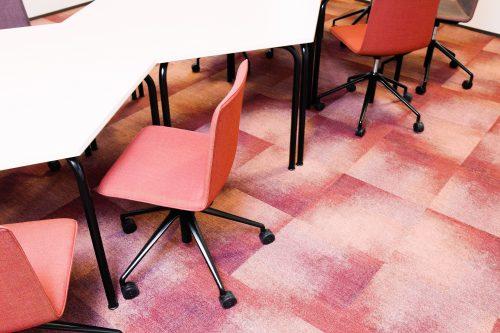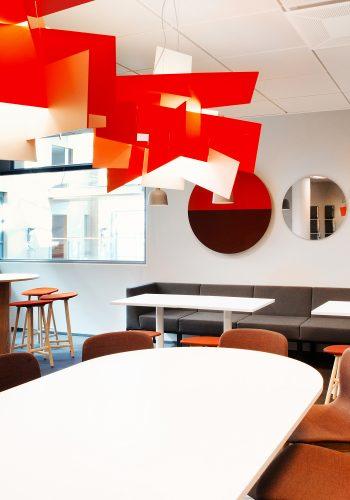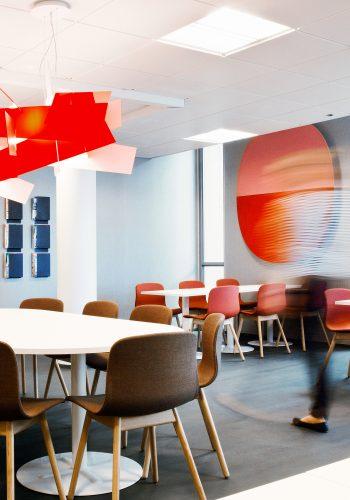 Comfortable workspace supports company values and brand identity
Santander had a positive problem to solve: they had rapidly outgrown their office space, and were in urgent need of a new one. In the process they wanted to commit their personnel and enhance their employer profile with an attractive office.
The design process kicked off with collaboration with the management. Further along the process the team leaders were also involved. Santander's visual identity, brand and core values were also guiding the design process.
The end product is a major workplace renewal, in which we were in charge of everything from spatial design to furniture tendering, planning the moving of the office and supervising installations at site. The project started a long-term partnership, during which we have designed several new spaces for Santander.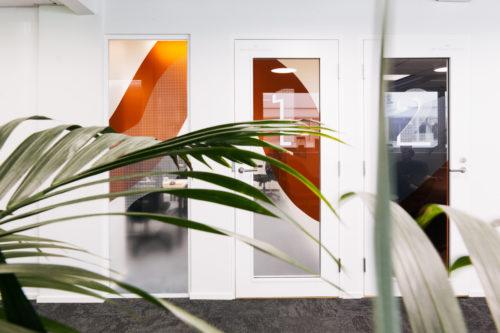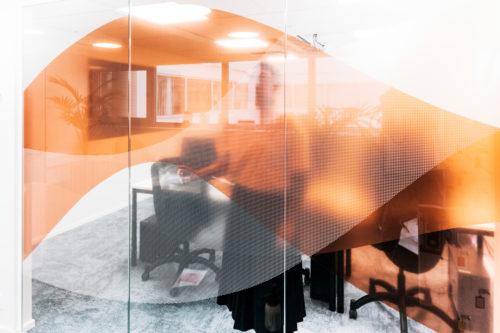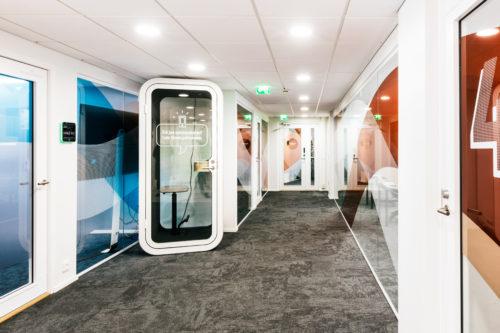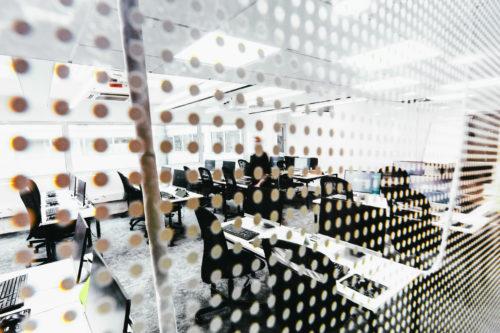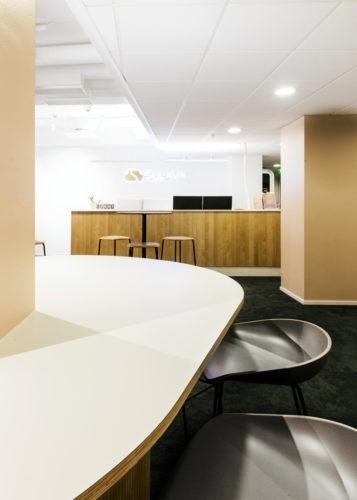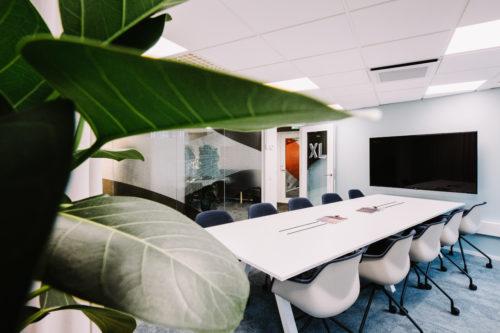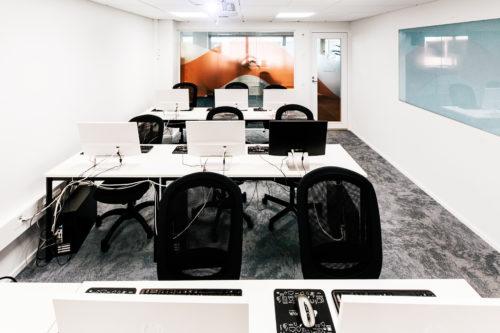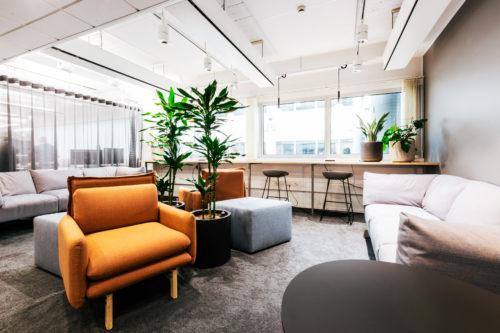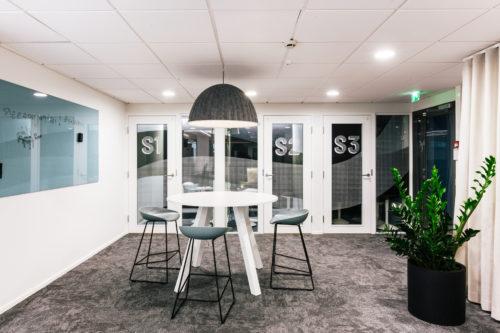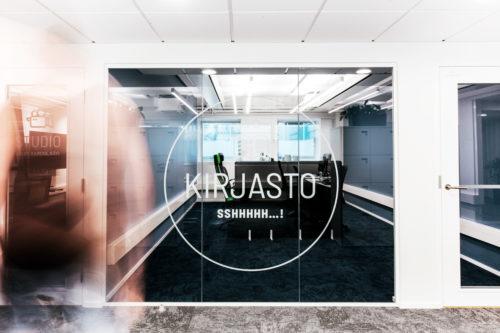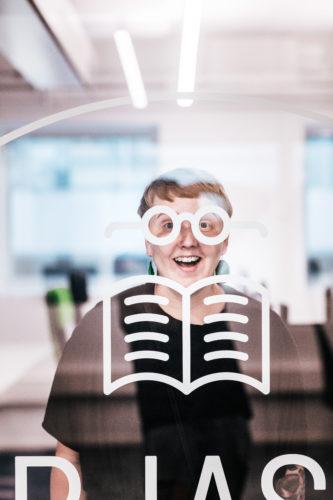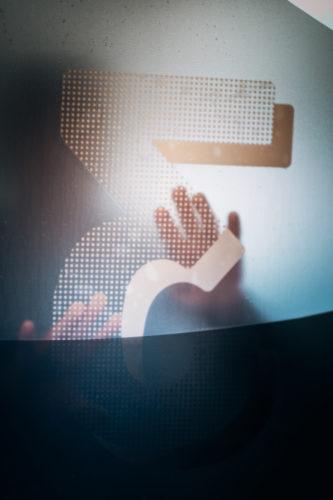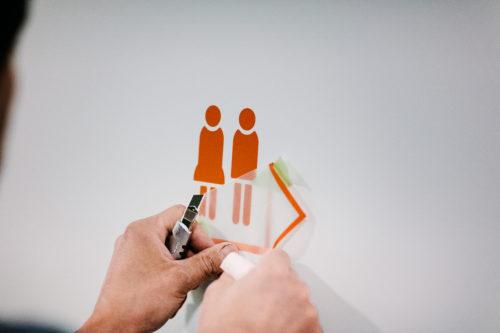 Close-knit collaboration and mutual understanding
Sulava is an expert and training company that specialises in Microsoft solutions and cloud service implementations. The company had outgrown it's spatial capacity, and was in need of an office that would fit all employees as well as class rooms that were previously located in a building next door.
We joined in the project when the renovation was already ongoing, but just in time to design surface materials, lighting, fixed furnishing, furnishing and spatial branding. The work environment is activity-based, which means it has different spaces to support various vork tasks and activities. Coziness was created with spotlights and relaxed furniture. Togetherness and casual vibe were important for the laid-back Sulava team.
We dived into Sulava's brand in a workshop to figure out how to bring it forward in the space. As an end result we created decals and signage to communicate about the company and it's visual identity.
We walked hand in hand thopugh the project with the client and supervised the installations to make sure everything goes as planned throughout.
"Collaboration with Kakadu went smoothly! Communication was frequent and Kakadu made sure we know what's going on in each phase of the project, and gave us opportunities to affect the design. The new office reflects the company, and both our employees and customers are more than pleased with the end result. Big thanks to everyone involved!"
– Suvi Kolehmainen, Growth Hacker / Sulava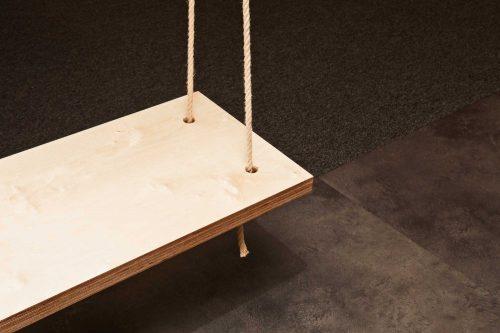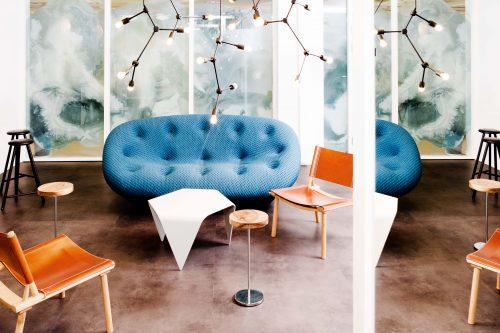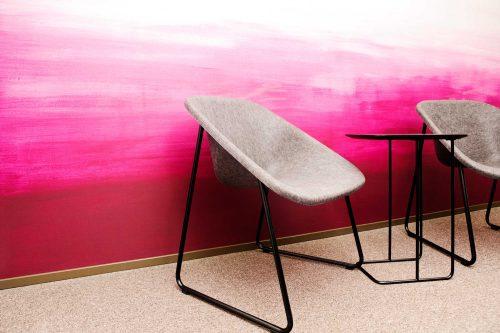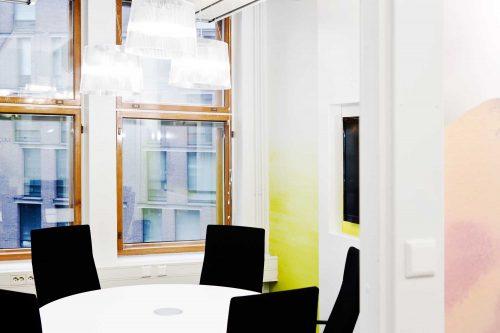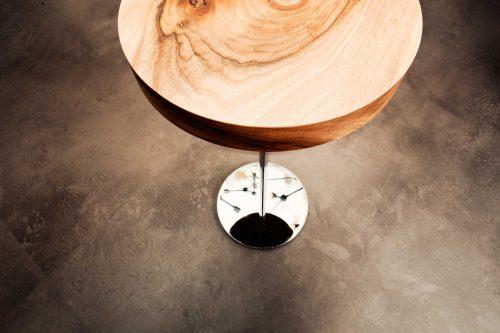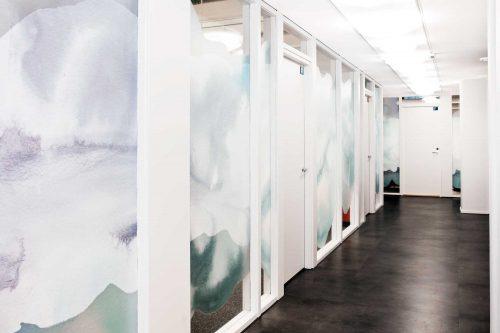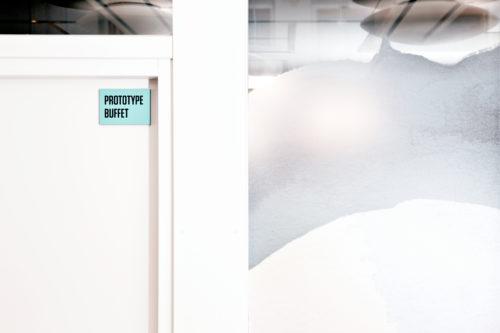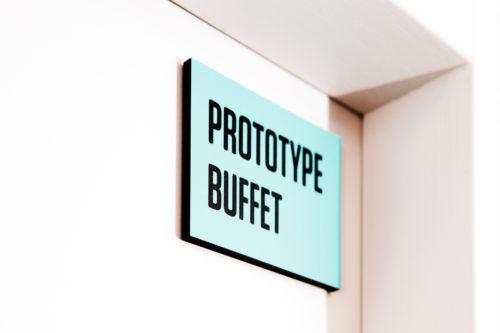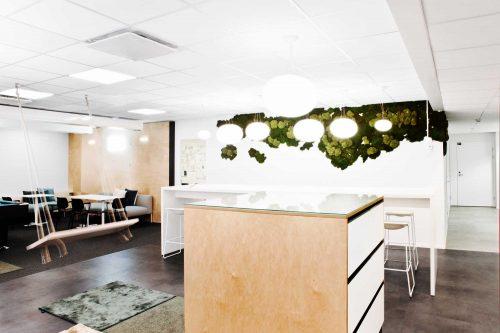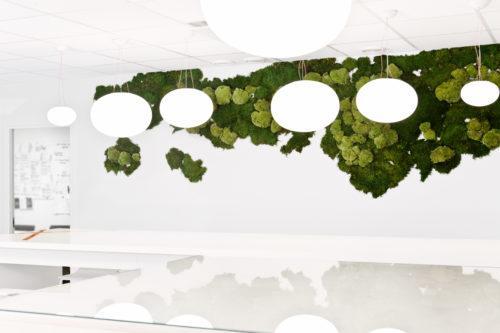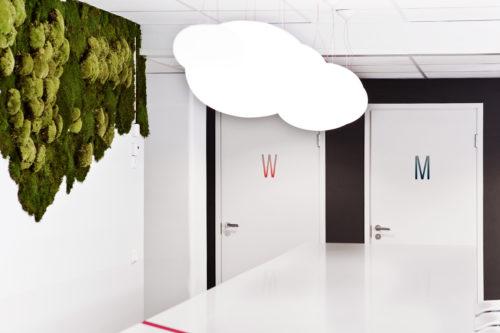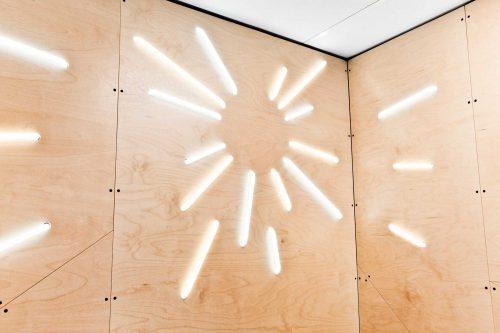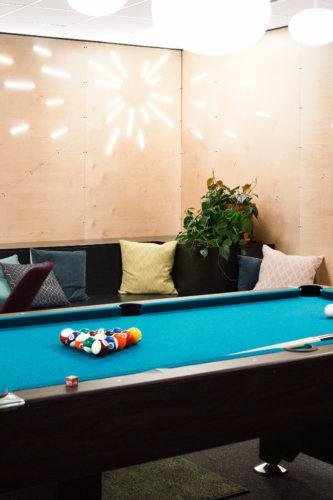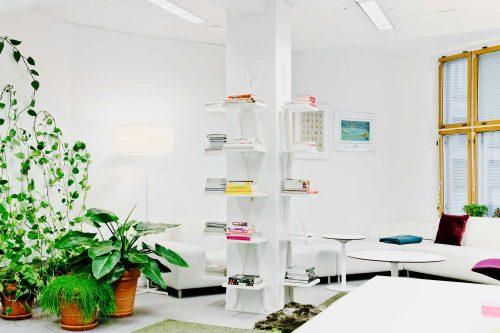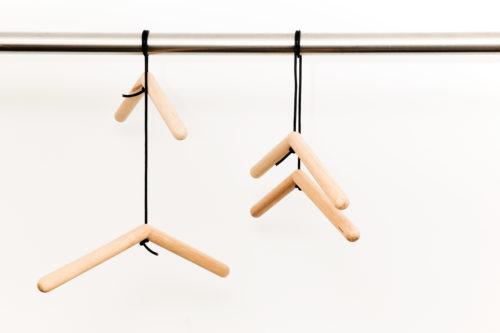 Enhancing teamwork and functionality
Digitalist gave us a brief to improve staff interaction with a workspace renewal. The new facilities should be cosy, impressive, functional and breath togetherness.
To meet the expectations, we participated with the staff to find out how the teams work and what the staff looks forward to in the new office. The solutions were designed based on their wishes.
The new facilities brought the teams closer to one another, partly in the same open space. The diversity of their tasks is supported with team rooms and quiet spaces. The furnishing can be altered to fit the needs of different functions.
Showy furniture, materials and lighting were incorporated in the lounge area, and unique decals were designed to finalise this one-of-a-kind office.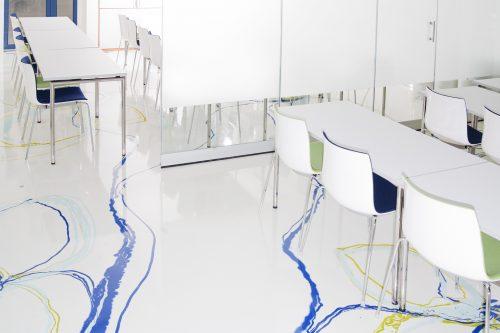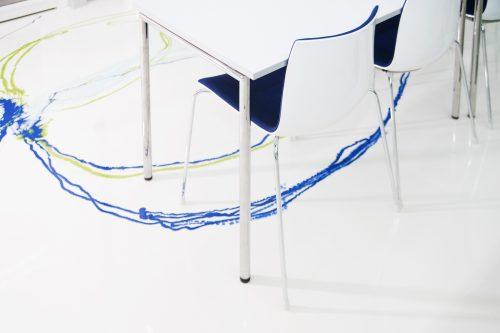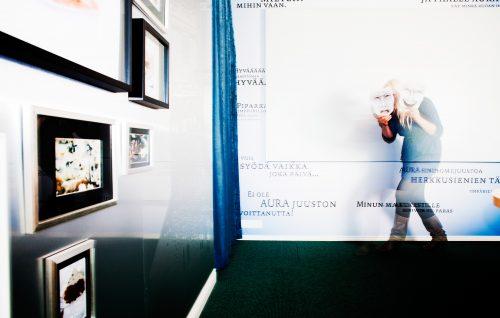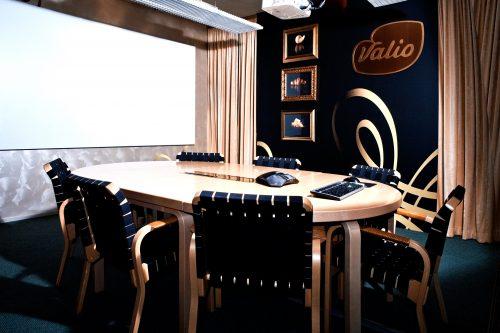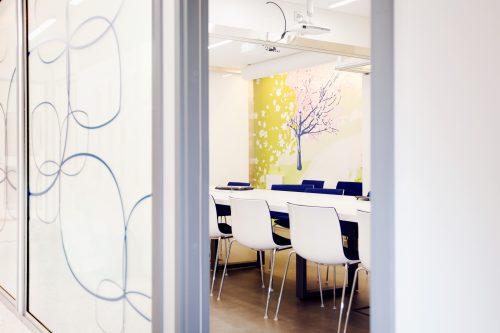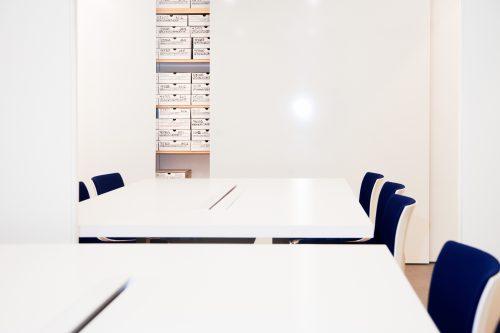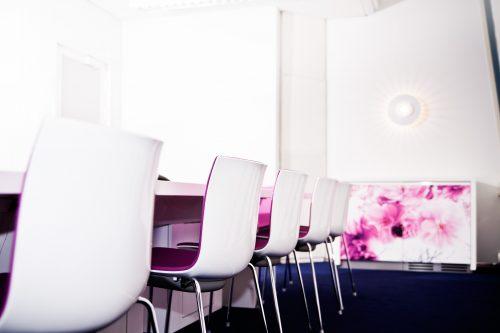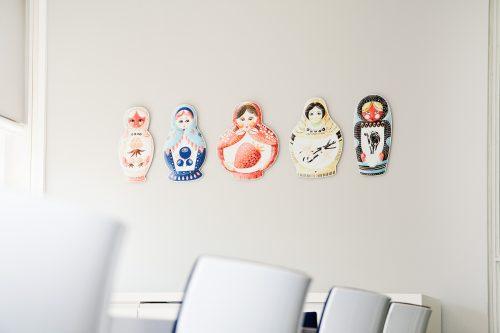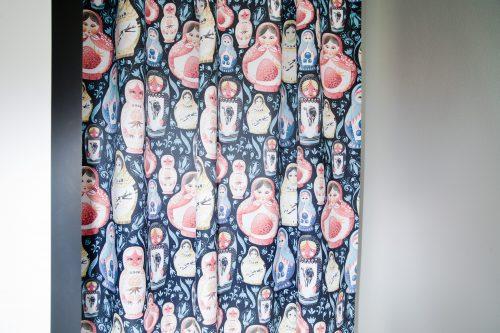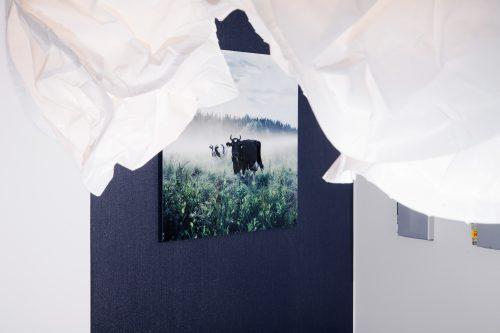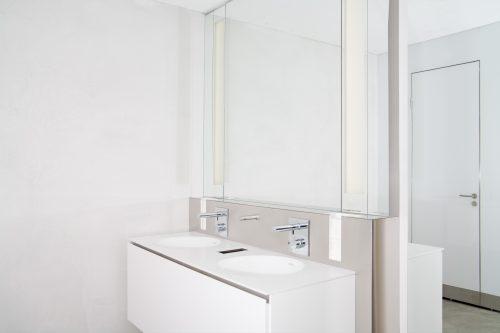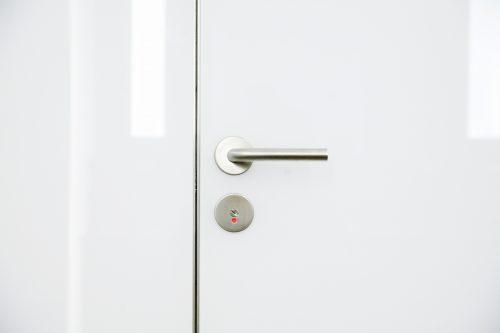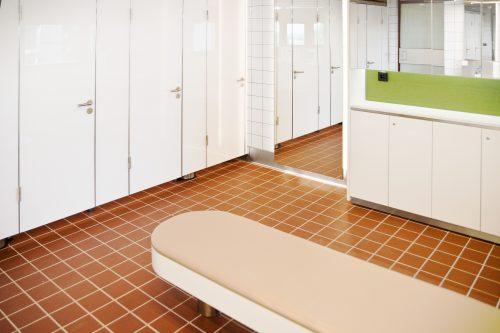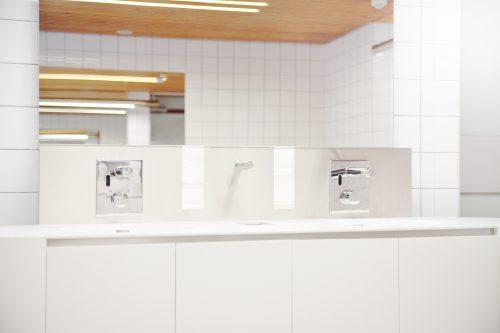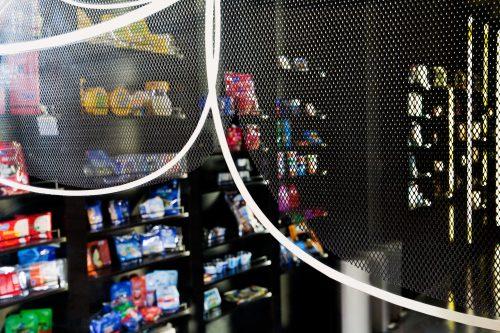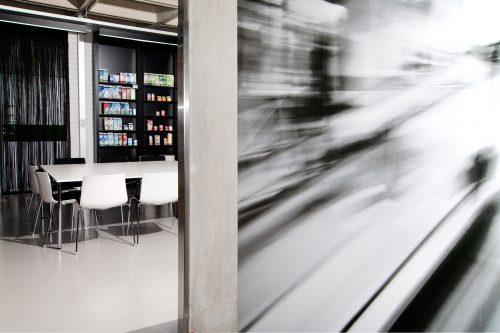 A familiar brand comes to life in Valio facilities
Being a large company, Valio has a multitude of different facilities which we have renewed over the years. The renewals were designed in co-operation with the personnel, and smaller projects were executed over the long term whenever a need for another renewal surfaced.
The visual identity of Valio was brought to life with different techniques. The meeting rooms were branded with familiar products, and highlighted with relevant patterns and illustrations. "Sensory space", a special classroom, got a unique hand-painted wall based on a leaf pattern, which is one of the cornerstones of Valio's visual identity. The floor was created by straining blue and green paint on top of a wet layer of white paint. The combination of design and chance brought out a lively and unique end result. Glass partition decals function as both a colourful enhancer of the brand as well as a visual barrier. Bespoke wallpapers are cheerful in colour and imagery, and they support Valio's brand and functions.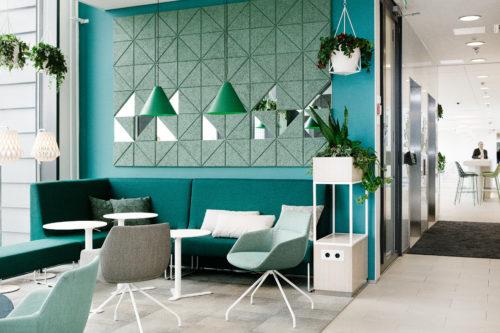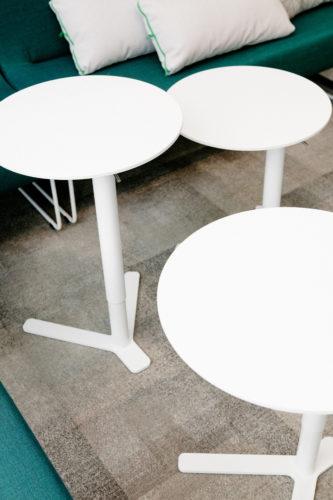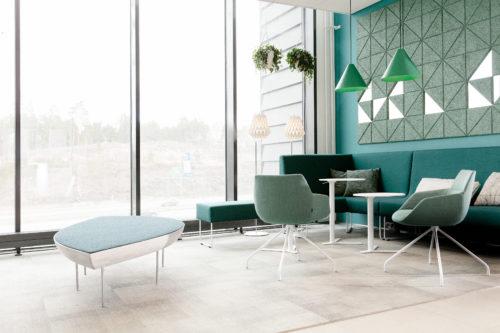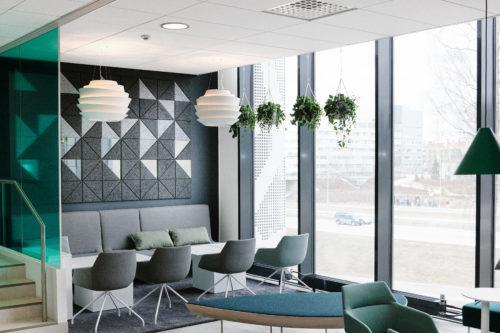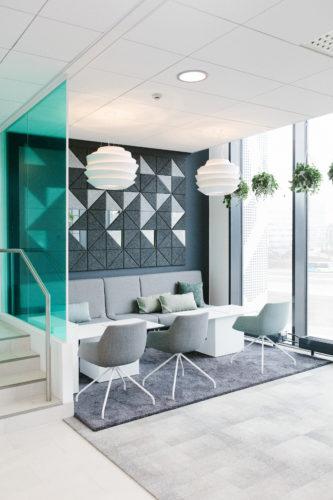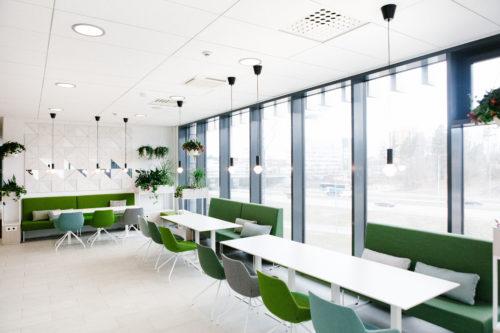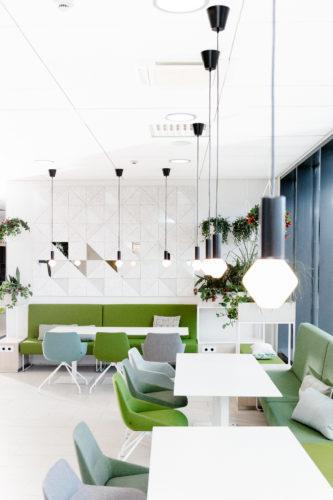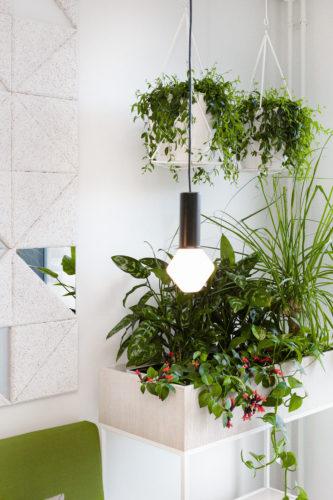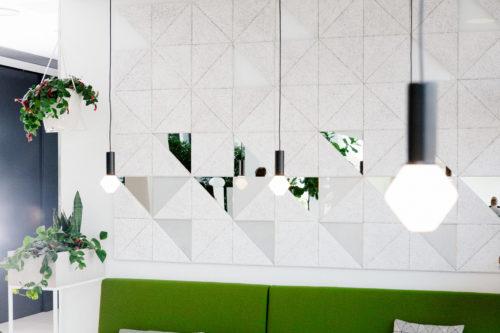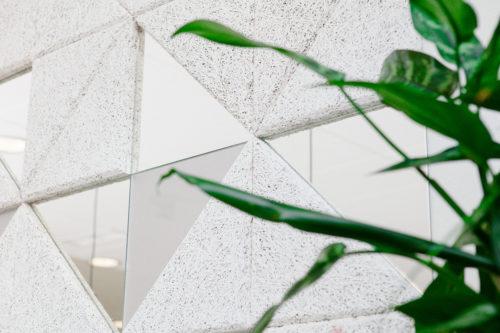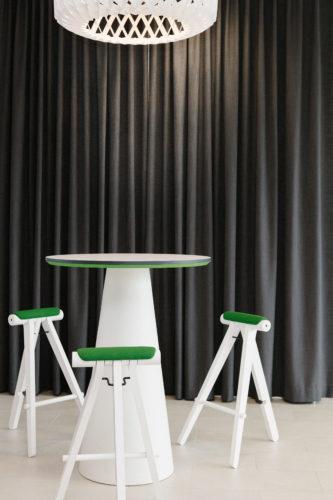 Café-like atmosphere in office environment
We designed an office café and a lounge area for Outotec's office, to enhance staff interaction and to bring variety into individual and teamwork.